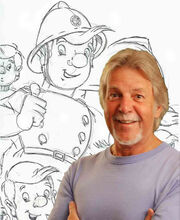 Rob Lee
was the creator of
Joshua Jones
, he was also responsible for the series's concept art.  His professional career began in London as an artist and writer for children's comics. After ghosting such characters as Dennis the Menace he went on to create dozens of his own cartoon characters. He eventually moved into animation.
Rob has originated many other children's cartoon concepts such as Fireman Sam and PC Pepper. He has also collaborated on The Shoe People, Digswell and Daisy, The Oggies and many more.
External links
Edit
Ad blocker interference detected!
Wikia is a free-to-use site that makes money from advertising. We have a modified experience for viewers using ad blockers

Wikia is not accessible if you've made further modifications. Remove the custom ad blocker rule(s) and the page will load as expected.