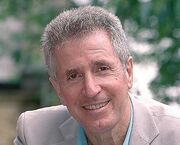 George Layton (born George Lowy on 2nd March 1943 in Bradford, West Riding of Yorkshire of Czechoslovakian and Jewish ancestry) is an English actor, director, screenwriter and author. He was educated at Belle Vue Boys' Grammar School in Bradford and studied acting at the Royal Academy of Dramatic Arts where he won the Emile Littler award. He went on to leading parts at Coventryand Nottingham and appeared on Broadway in Chips with Everything. He also appeared in an Australian production called Funny Peculiar.
When Joshua Jones was translated into English, he served as the role of the narrator, and provided the voices of all the male characters and animals.
Voices
People
Animals
Selected Film and Television Work
Ad blocker interference detected!
Wikia is a free-to-use site that makes money from advertising. We have a modified experience for viewers using ad blockers

Wikia is not accessible if you've made further modifications. Remove the custom ad blocker rule(s) and the page will load as expected.