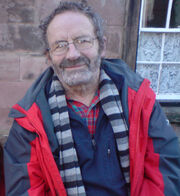 Bob Wilson
was responsible for the story-lines & scripts on
Joshua Jones
. He was the creator of the popular Stanley Bagshaw series and has written several books as well.
He has also written for radio, TV, and film. He worked in close collaboration with HRH the Prince of Wales on the film The Legend of Lochnagar. He is, however, best known as the creator of the Stanley Bagshow books, which are still in print after 30 years, and now regarded as "cult classics".
External links
Edit
Ad blocker interference detected!
Wikia is a free-to-use site that makes money from advertising. We have a modified experience for viewers using ad blockers

Wikia is not accessible if you've made further modifications. Remove the custom ad blocker rule(s) and the page will load as expected.